Iconic Products
Ruby love
Iconic Products
Ruby love
This little pink heart decorated with a ring of stones is garnished with truffles associating Champagne with ruby ??chocolate. A delicious blend that will delight the most refined gourmets. Net weight: 87.5g.
What you will find inside
*This list of chocolates is meant to be indicative. Box contents may vary depending on available stock. The number of pieces depends on the size and/or weight of the box ordered.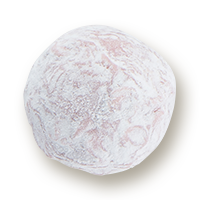 Truffe Champagne rose
Dark chocolate mousse with Marc de Champagne brandy coated in ruby chocolate and sprinkled with confectioner's sugar
Little Treats
Rosine card
Rosine "pop-up" card
Link to product
Little Treats
Cello Napolitains 9x3
Assortment of 27 chocolate squares - 121.5g
Link to product
Other Boxes
On the beach
Assortment of 15 pralines - 187,5 g
Link to product