Iconic Products
Laquais d'une châtaigne
Iconic Products
Laquais d'une châtaigne
Head east with this tin of ten delicious iced chestnuts. Carefully selected and candied in keeping with artisanal traditions, these sweets would be the perfect gift to bring to the holiday table. Net wt.: 235g. Gluten- and lactose-free.
What you will find inside
*This list of chocolates is meant to be indicative. Box contents may vary depending on available stock. The number of pieces depends on the size and/or weight of the box ordered.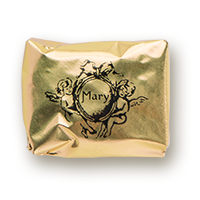 Marron Glace?
Marron Glace?
Iconic Products
Rosine gold
Assortment of 8 pralines - 100g
Link to product
Little Treats
Dark chocolate from Mary's hacienda Maya cacao criollo in Mexico
Dark chocolate 80% - 70g
Link to product
Little Treats
Grains de café enrobés
Roasted coffee beans in dark chocolate - 200g
Link to product